Shell executives visit to witness the start of the second 15-year partnership with Newey
On March 28, 2019, Royal Dutch Shell (Royal Dutch Shell) senior management once again visited the Suzhou headquarters of Newey Valve. The Shell delegation was led by Shell Executive Vice President Fabian Ziegler, accompanied by Shell Executive Vice President Business Consultant Gregory Conklin, Shell EPC General Manager James Humfrey, Shell Strategic Procurement General Manager Ding Xiaoguang, etc. Cheng Zhangwen, Executive Director of Neway Group, Deng Guochuan, General Manager of Valve Division, Li Na, Deputy General Manager, Feng Yinlong, Deputy General Manager, etc. received on behalf of the company's management. In the
meeting, Feng Yinlong introduced the recent construction achievements and future development plans of the company to the guests on behalf of Newway around the theme of "safer, more environmentally friendly, more intelligent and more compact". Ziegler Mr. Fabian expressed his affirmation of Newway's past excellent performance on behalf of Shell. As an important part of Shell's supply chain, Newway actively cooperates with Shell's project needs and has similar values with Shell, shell is grateful for this and looks forward to working with Neway in more areas in the future.
Shell is an internationally renowned energy company with strict system specifications in the selection of suppliers. Since the first cooperation between the two sides in 2003, with its continuous investment and comprehensive service strength in product research and development, process technology, quality control, management efficiency, etc., Neway has continuously expanded its supply scope to Shell at a steady and rapid pace, and has successively obtained Shell's "2011-2016" and "2017-2022" EFA(Enterprise Frame Agreement) global framework agreements.
In the past 15 years, Neway has supplied more than 50 projects and 180000 valves to Shell worldwide. Neway also has firm confidence, with superb product technology, efficient service and the determination of continuous innovation, in the future with Shell to carry out a broader, long-term cooperation, continue to achieve the second and third... successful 15 years.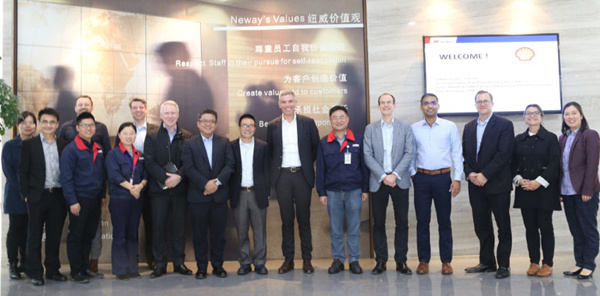 Shell visiting team took a photo with Newey valve executives
Shell executive vice president Fabian Ziegler spoke on behalf of Shell team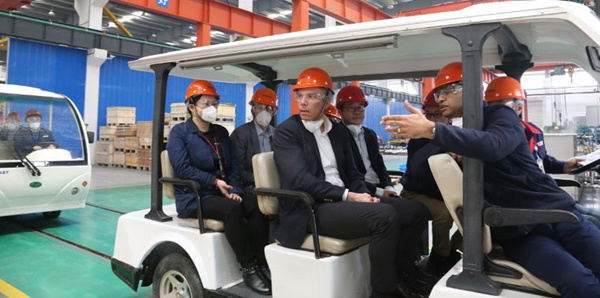 Shell team visited Newey valve manufacturing base