Chongqing Water Pump: Special Organization Life Meeting of Equipment and Thermal Engineering Joint Party Branch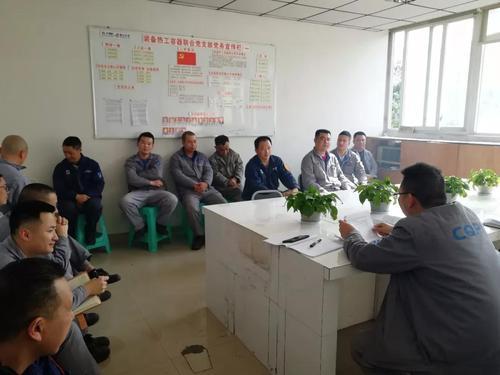 On March 18, the Equipment and Thermal Engineering Joint Party Branch of Chongqing Water Pump Factory Co., Ltd. organized the 2018 Annual Organization Life Meeting. At the meeting, all the party members of the branch carefully looked for their own shortcomings, spoke actively, adopted mutual evaluation of party members, directly pointed out problems and showed signs, and did not engage in harmony with each other. The named party members all expressed their attitude and accepted criticism from others modestly.
Party branch secretary Comrade You Peng reported to all party members on the work of the branch committee in 2018, and carefully reviewed the shortcomings in the work, such as the party building work is relatively weak and not enough to land; the branch committee team is not responsible enough Wait, and put forward corresponding rectification measures, in the later work, humbly accept the supervision of the masses and the majority of party members. After that, Party members and comrades put forward self-criticism in the face of their own work and ideological shortcomings, and also put forward criticism and suggestions on the shortcomings of others. Comrade Xia Yu mentioned at the meeting: We must implement "two improvements" to the branch, that is, "improve efficiency and increase vitality". Improve production efficiency, strengthen the cohesion of the branch, improve the vitality of the branch, and at the same time strengthen ideological learning; He also put forward self-criticism on his own shortcomings in his work. He said: Due to the heavy production tasks, in order to improve the work efficiency of employees, I The requirements of this department are more stringent, and I hope I can improve in future work. Comrade Guan Peng criticized himself that due to the heavy production task, he neglected the cultivation of party and government thoughts for the young employees of the company, which made the two-way cultivation of party members in the container workshop poor. In the future party affairs, it is necessary to strengthen party group activities, actively participate in branch activities, give full play to the subjective initiative of employees, and apply them to work. comrade wang junbo mentioned: thinking is the key to party building. Only with ideological progress can we make further progress in our work, and we must comprehensively strengthen the ideological construction of party members in our branch. Comrade Huang Shunbing self-criticized: Due to work factors, he is not active in the organizational life of the party group. Therefore, I want to strengthen my study, improve my ideological awareness, actively participate in the organizational life of party groups and branches, and implement the life of party building.
Everyone's positive speeches made us realize what we did not do well and how we should do it, making this review activity very smooth. We must firmly establish the "four consciousnesses", strengthen the "four self-confidence", and resolutely achieve the "two safeguards". We should learn deeply and thoroughly the spirit of the 19th National Congress and improve our ideological cognition. Finally, party members are required to strengthen their study of the "Learning Power" APP, learn party and government knowledge in their spare time, and improve their ideological awareness and political awareness. (Heat Treatment Wu Chengcao)