Fluorine rubber lined composite compensator
Products are designed and manufactured according to chemical industry standards, can meet a variety of different industrial and mining use. At the same time can also be customized according to the needs of customers processing a variety of non-standard lining fluorine products
Keyword: Fluorine rubber lined composite compensator
Product characteristics of fluorine rubber lined composite compensators; High temperature resistant working temperature up to 250 ℃. Low temperature resistance with good mechanical toughness; Even if the temperature drops to -196 ℃, an elongation of 5% can be maintained. Corrosion resistance is inert to most chemicals and solvents, exhibiting resistance to strong acids, alkalis, water, and various organic solvents. Climate resistance has the best aging life among plastics. High lubrication is the lowest friction coefficient among solid materials. Non adhesion is the minimum surface tension in solid materials, which does not adhere to any substance.
Installation instructions for fluorine rubber lined composite compensator:
1. The pipeline must have fixed supports or brackets, and the force of the brackets must be greater than the axial force. Vertical installation and overhead installation
2. During installation, corresponding fixed brackets and load-bearing brackets should be installed at both ends of the product to prevent it from being pulled off under working pressure. The installation bolts should be symmetrically and gradually tightened to prevent local leakage. 4. During installation, keep away from heat sources and strictly prohibit the use of media that do not meet the requirements of this product.
3. PTFE rubber joints, lined with PTFE rubber composite compensators, are strictly prohibited from exceeding the displacement limit during installation.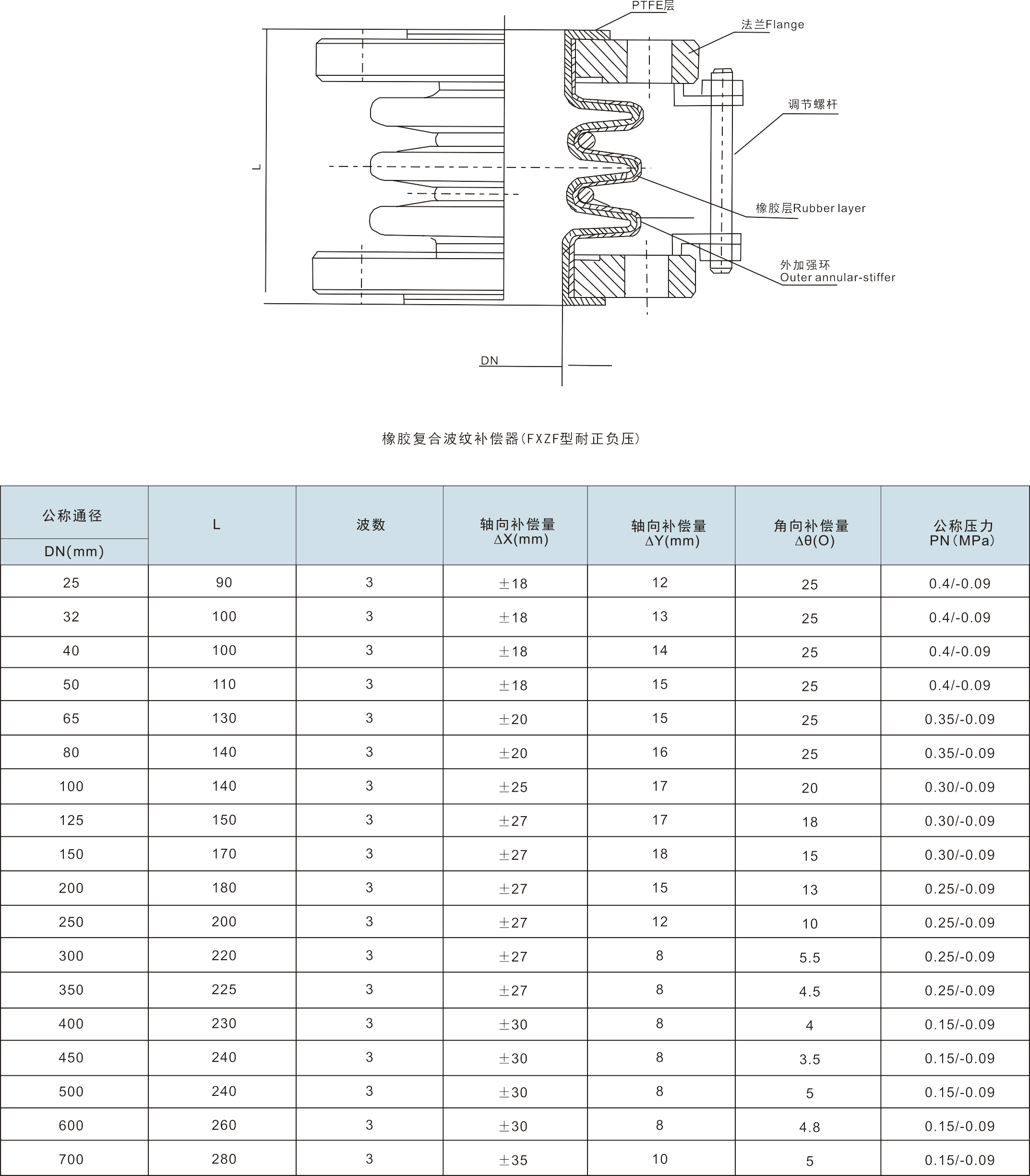 The company mainly produces fluorine-lined valves: fluorine-lined ball valve, fluorine-lined butterfly valve, fluorine-lined stop valve, fluorine-lined diaphragm valve, fluorine-lined gate valve, fluorine-lined plug valve, fluorine-lined regulating valve and various fluorine-lined pipe fittings. Products are designed and manufactured according to chemical industry standards, can meet a variety of different industrial and mining use. At the same time can also be customized according to the needs of customers processing a variety of non-standard lining fluorine products.
has a complete range of cost-effective
has professional technology dedicated to product research and development, creating cost-effective products to meet different needs of customers.

Good quality is trustworthy
In the production process, quality management is embedded in every production process. From the purchase of raw materials, to product manufacturing
manufacturing, packaging, shipping, etc., there are layers of inspection and supervision, and strive to create excellent quality.

Service After-sales Worry-free
Careful Service Details Show Service Quality!